Popular Foundation supports Bottomless Closet, an NYC non-profit
A New York City organization that empowers women to succeed professionally
Established in 1999, Bottomless Closet is one of the organizations that Popular Foundation supports through employee contribution-based grants. The organization's goal is to support women as they enter or return to the workforce. Since its founding, Bottomless Closet has helped nearly 50,000 NYC women.
Enabling clients to be confident and feel their best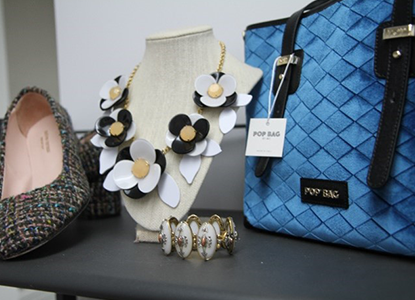 Women in need find the organization through one of Bottomless Closet's referral partners (a community advocacy group, a shelter, a college, or a social worker, for example) or by directly contacting the organization. In its 23+ years, Bottomless Closet has amassed 200 dedicated volunteers and approximately 200 referral partners.
Currently, Bottomless Closet helps more than 100 women per month. That number is steadily returning to the pre-pandemic levels of more than 300 per month. Each client comes in for a one-on-one appointment that is personalized for their needs and objectives. Some focus on resume support and interview practice, others seek out appropriate clothing for an interview and job search. Volunteers and staff coach candidates as start their new careers, offering a robust workshop program to make sure each client feels their most confident. Last year, the organization delivered more than 80 workshops to 1,500+ attendees. The workshops focus on financial literacy, technology, and personal branding, wellness, and enrichment.
Committed to partnership and inclusion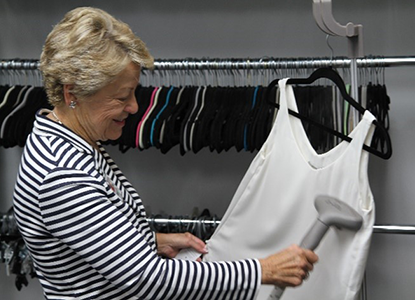 With the support of its corporate partners, Bottomless Closet's office looks nothing short of a fashion showroom. The organization helps clients look and feel their best by sourcing new or gently used items through corporate clothing drives and donations. Committed to size inclusivity, client preferences and religious considerations, Bottomless Closet emphasized the need for larger shoe and clothing sizes, as well as scarves and other accessories.
Quite often, the client comes in for their appointment and leaves directly to an interview or to their first day at work. Making sure they have everything they need to succeed is part of Bottomless Closet's mission. The organization provides three additional outfits for each client, so they have a week's worth of clothing.
Accessible for all
Like many organizations, Bottomless Closet pivoted to virtual services during the pandemic. Today it continues to offer workshops and one-on-one consultations online. Virtual options have allowed clients to access the services in the way that works best for them, and at the same time have helped train them on technologies and platforms that are now the norm of the interview process and a big part of many jobs.
In 2022, Bottomless Closet was one of the grant recipients as a community organization that Popular Foundation supports. One of their goals is to open a computer lab to further enhance technology training for their clients. A lab would help clients update resumes, apply for jobs, and improve their work-related tech skills.
"By working together, we can reach clients wherever they are, and we can deliver on their specific needs. More importantly we are empowering them to take that first step again and build on their confidence for a brighter tomorrow," said Yvonne Cassidy, Development Director for Bottomless Closet.
Visit our website to learn more about Popular Foundation and our commitment to the communities we serve.