Operation Hope – HOPE Inside Brooklyn Launch
We are thrilled to announce that together with Operation HOPE, we've launched the third HOPE Inside location in New York at our branch at 539 Eastern Parkway in Brooklyn, NY. The program will empower entrepreneurs and small businesses in Crown Heights, Brooklyn, through classroom education and onsite guidance. Read more about the program in our press release here.
Many celebrants braved the plunging temperature last night and listened to inspiring words from U.S. Congresswoman Yvette D. Clarke, of New York's 9th District and Brooklyn Borough President Eric L. Adams; Assemblymember Annette Robinson, Assembly District 56; Edward Kramer, a member of the Operation Hope Northeastern Board; Mary Hagerty Ehrsam, CEO, New York and Division President, HOPE Youth Empowerment Group Operation HOPE, Inc. and students who completed the HOPE Inside small business program at our 125th Street branch in Harlem, NY – entrepreneurs Mr. Koby Keys, President of More Keys Properties, LLC and Mr. Mansur Abdus-Salaam, Founder & CEO of Griffin's Gourmet Foods Inc.
Congresswoman Yvette D. Clarke, of New York's 9th District (pictured below) spoke about the ongoing economic struggle many face and the importance of Hope Inside. She shared, "On behalf of the people of the Ninth Congressional District of New York, I want to thank Operation HOPE and Popular Community Bank for their commitment to strengthening the middle class in our community, by providing critical information about the best methods to establish an excellent credit score, reduce debt, and build savings for the future. These savings provide the foundation for a family to own a home, for the children to attend college, and for the parents to have a secure retirement. I welcome Operation HOPE to our community, and I am certain that we will work with each other in the future."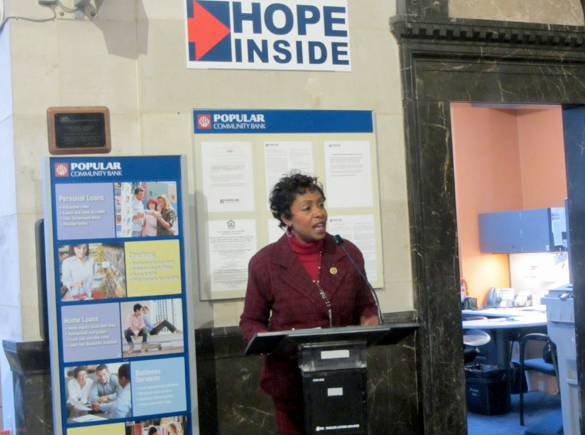 Operation HOPE and Popular Community Bank work as a team at the branch to provide two different offerings:
• Small Business Workshops – every second Tuesday of the month (the first started February 10) from 5 PM – 7 PM, creates the opportunity for a one-on-one consultation with a trained Operation HOPE counselor to discuss their business plan, financials and to deliver support through other referrals.
• Entrepreneurial Training Program – starting in March 2015 to May 2015 from 5 PM-7PM ET every Wednesday, provides attendees with practical information to enable their success. Guest experts are invited to attend to discuss branding, distribution, capital financing, conduct analysis and vet out their value proposition.
If you are interested in learning more or enrolling in the HOPE Inside Program in Brooklyn, contact (201) 381-8798.
The first, HOPE Inside in New York was inaugurated April of 2014, at 231 West 125th Street in Harlem and also focuses on small business education. The second Hope Inside program was launched in June, 2014, at 752 East Tremont Avenue in the Bronx.