Hispanic Heritage Month Spotlight: Bertha Rozier of Popular Bank
Bertha Rozier of Popular Bank: "The way I look and speak is unapologetically me"
Bertha Rozier joined Popular Bank in early 2022 as head of U.S. Transformation and Retail Banking. As part of our Hispanic Heritage Month spotlight, she shares her story on her Cuban roots, her journey to corporate leadership and embracing individuality.
Where you come from is simply a starting point.
Born in Camagüey, Cuba, Bertha and her family fled the island seeking political asylum when she was five. Initially, the family moved to Spain. Six years later, when Bertha was 11, they arrived in Miami and settled in Belle Grade, Florida, a small town in Palm Beach County. With less than 18,000 people, Belle Grade is mostly known for its sugar cane crops. Bertha's dad worked as a mechanic in one of the sugar mills and her mom stayed home to focus on the family.
"I remember being rather young yet understanding how big of a sacrifice my parents had made. They left everything behind twice to give me an opportunity for a better future," says Bertha Rozier. "That feeling is still with me. The notion of making your family proud. Getting an education, building a career, demonstrating upward mobility. That is something that a lot of first- and second-generation Americans have in common."
The first in her family to go to college, Bertha started her career in banking shortly after graduation. She did not seek out to work in finance specifically, but the relevance of the industry resonated with her immediately. She knew she wanted to make a career in finance and saw banking as an industry that plays an important role in people's lives.
"We value our doctors because they provide treatments and therapies to keep us healthy. Financial health is almost as important as physical health to people's future, and we get to be a part of that for our customers every day."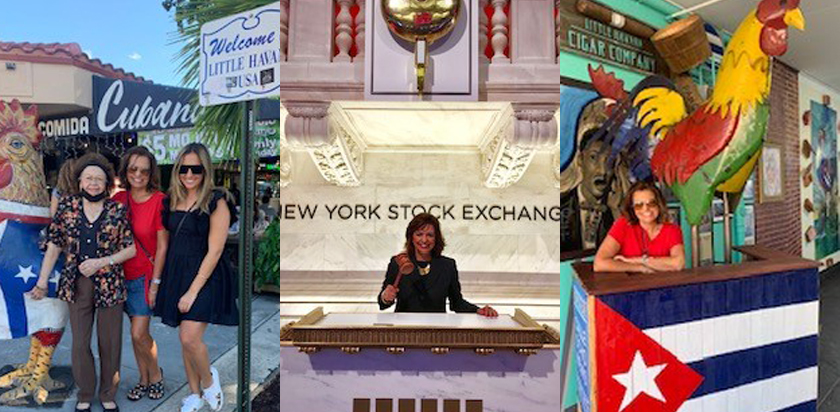 As a first-generation American, Bertha Rozier was keenly aware of the sense of accomplishment that a financial milestone brings. Opening an account, saving for a major purchase, securing a business loan or buying a home – those life events were significant for many people. For new Americans, they often validated the hard work and sacrifice that led up to those milestones.
Finding your voice and using it.
As she started to grow in her career, Bertha had to get used to being "the only one in the room." Self-doubt often crept in. According to KPMG, 75% of women have reported experiencing "imposter syndrome" in corporate America. Bertha was not immune to it, but she knew what she had to do. She had to find her voice.
"I had to discover it, own it, and use it," she says. "It took some time to build confidence. I had to shift from focusing on how others viewed me to knowing that my expertise brought value to the clients and to the organization."
She often recalls a story about attending client meetings with a male analyst. "People would assume I was his assistant. And I would say, no, I am here to talk about building your wealth, and I will be in charge of that."
Instead of conforming to what was expected, Bertha remained true to her heritage and her culture. "The way I look and speak is unapologetically me. I consider individuality and cultural heritage advantages. The foundation for a unique perspective that I bring into the conversation."
Paying it forward with mentorship.
As Marian Wright Edelman once said, "You can't be what you can't see." The value of women and minority representation in leadership roles has proved to have far-reaching benefits, including validating the dreams and the goals of millions of young people. And according to Bertha, simply representing is not enough.
"As a Latina in a leadership role, it is my responsibility to mentor and champion for the success of those in my community," she says. "Yes, they need to see that people who look like them and talk like them and have a similar story to theirs can do anything. But as leaders, we also must pay it forward. Otherwise, we won't see the changes that we need to see in the future."
Being a mentor has been important to Bertha because she often observes insecurities in her younger colleagues that she once struggled with. Whether it's obsessing over accents or cultural family dynamics that sometimes resurface at work – she emphasizes that those deserve inclusion and respect.
"Everyone's story is different. That is the beauty of our community and our world. Mine made me who I am today. It shapes the way that I relate to people, the way I conquer challenges and celebrate victories. I am proud of my heritage and my culture because it makes me … me."
Bertha Rozier is based out of NYC and can be reached at brozier@popular.com. For more Hispanic Heritage Month stories and spotlights, follow us on LinkedIn.